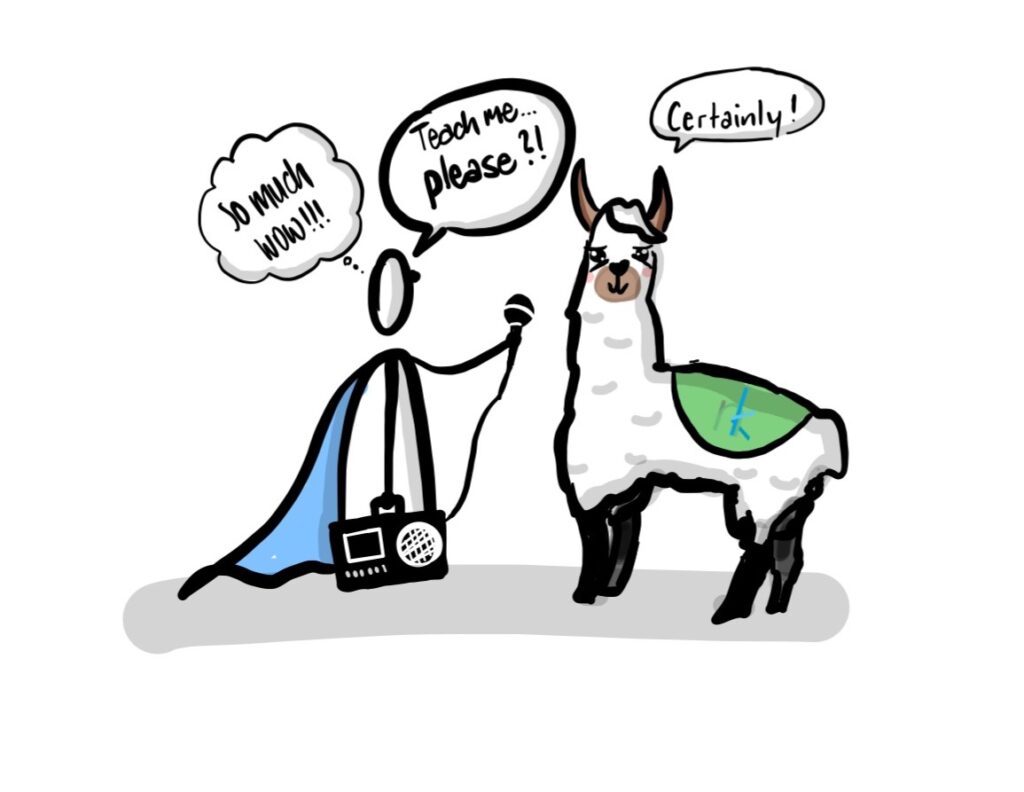 Alpa­cas – no need to elabo­rate. Social media and our hearts are over­flowing with love for these furry crea­tures. Brown ones, white ones, furry or freshly shorn ones, big, small, tiny, snee­zing (if you haven't seen this one, you must!), dashing through the snow, wearing scarfs, wearing head­pho­nes, in nature, in stables, in hay, on meadows and of course, on the beach. Alpa­cas work ever­y­where and for ever­yone. The alpaca video is for our decade what the cat video was for the 2000s.
Why am I writing this article then instead of watching more videos? For months and months, I simply enjoyed the alpa­cas' presence in my feed to the fullest – until one video made me take a closer look: a herd of alpa­cas (the beige, very furry kind with amazing hair­cuts) was taking an inte­rest in a hedge­hog that had ente­red their space. One by one they went to sniff and regard this strange occur­rence, jumped away, only to go back and engage again, endlessly and as cute as ever. Now, being an agile coach, I carefully obser­ved and have since star­ted a list of lear­nings us agile coaches can directly derive from alpaca content (giving us a perfect excuse to watch more of it, you're welcome).
Here it goes, nine things agile coaches can learn from alpacas
1. Pain­ful curiosity.
Ever hit your nose on a hedge­hog? It hurts. The alpaca from the video mentio­ned above agrees here. And yet, it will re-engage and not stop until its curio­sity is satis­fied. In my opinion, this is the perfect mind­set for an agile coach: approa­ching the curious occur­rence in ques­tion from all sides, no matter how much it hurts, because the lear­ning will be worth the pain – and because you cannot help it, curio­sity is what drives us. Also, we usually operate in contexts where other (possi­bly non-alpaca-mind­set) humans have called on us to make things visi­ble they them­sel­ves might not be willing or able to see, so it is lite­rally our job to engage, even with things that kind of terrify us. How do we go about that? What can help us here is
2. Being aware of the beha­viour of the group.
An alpaca that has seen a member of its herd jump away from a hedge­hog will engage, but carefully. It will derive cues for its own beha­viour from the beha­viour it obser­ves around itself. Same for us, espe­ci­ally when we are ente­ring new contexts, new projects, new groups. Observe before you engage, it will save you possi­bly unneces­sary pain. And when you engage and it hurts,
3. Show your feelings.
One thing I am constantly obser­ving in myself and my colle­agues, is that we are making an effort to remain as neutral and objec­tive as possi­ble, show­ing little to no invol­vement or reac­tions, being a good coun­se­lor, but one with no opinion or emoti­ons. I want to make the case that a char­ming thing about alpa­cas is that even though they have little facial expres­sion, one is very well aware of their state – curious, frigh­tened, careful, frea­ked out – and not only does that help enjoy them, it also gives considera­ble amounts of orien­ta­tion on how to inter­act with them. As agile coaches, our reac­tions help under­stand a situa­tion. Our emoti­ons can be the second opinion a team member needs in order to open up or that a leader needs to ques­tion a beha­viour others have been bearing silently. Show­ing emoti­ons and reac­tions openly is an advan­tage and shows trust and self-confi­dence. Of course, doing this requi­res strength. How do we gain that strength? By
4. Always being social.
Agile coaches are often working alone in projects or orga­ni­sa­ti­ons. And while we sure can be effec­tive, we too are social animals, which means we are happiest when we can be a part of a group that is just as furry as we are and can back us up, support, and under­stand us. This goes out to all the agile coaches skip­ping office days and team calls. Believe me and the happy herd of alpa­cas, it will make you feel better. Thus free­ing you up to
5. Keep your eye on new things.
Alpa­cas notice imme­dia­tely when things change around them. Agile coaches should too. After all, we are injec­ted into systems in order to foster impro­ve­ment via obser­ving, estab­li­shing trans­pa­rency, and intro­du­cing struc­tures and methods that help orga­ni­sa­ti­ons and their members feel good and effec­tive. And how do we measure impro­ve­ment? By noti­cing new things. And these new things might be small in the begin­ning and take time to grow. What helps us here is
6. Having a thick skin that can be shed if needed.
The diffe­rence between a freshly shorn alpaca and a furry one is big. Huge actually. Alpa­cas were made to be okay in snowy moun­tain ranges and grow fur accor­din­gly. And yes, this is a meta­phor. As agile coaches, we see a lot of things, hear a lot of things, bring up a lot of things, and need to be able to not let things get to us. At the same time, we need to be able to set
7. Boun­da­ries.
It does not happen a lot, but alpa­cas can spit. So can agile coaches. It's called setting boun­da­ries and taking care of your own needs. Because as much as we are able to accom­mo­date diffe­rent systems and mind­sets, we need to take care of our own resour­ces, in a violence-free, appre­cia­tive, and posi­tive manner of course. That also means back­ing up before we spit. Another way to take care of your own resour­ces and reloa­ding batte­ries is
8. Enjoy­ment.
Ever seen an alpaca in the snow? It jumps, it smus­hes, it throws itself on its back or side and rolls around in it. Same for us. Whate­ver there is to enjoy, we should enjoy, and publicly, making clear to the teams in our care what beha­viour is desi­red, what lear­nings and impro­ve­ments have been achie­ved and teaching by exam­ple the enjoy­ment of succes­ses and the sharing of that joy. And lastly, what we can learn from alpa­cas is
9. Choo­sing to be a unicorn.
I know, there are no unicorns, at least no real ones. But! The alpaca is as close as we can get. All we need to go from alpaca to unicorn is a single horn strap­ped onto their fore­head. And while we should never do this at home to our pet alpaca, we can under­stand that intro­du­cing some­thing new and unreal, a mira­cle, a change, some­thing that humans believe will never exist is just one little measure away. Let's choose to be in a mind­set of "things are possi­ble because we are only one little change away from being a unicorn".
Well then, fellow almost-unicorn lovers and mind­set adop­ters, thank you for reading, feel free to go ahead to watch the snee­zing alpaca video and/or share addi­tio­nal alpaca lear­nings or videos here!
And for the fellow agile coaches: next time you feel stuck, remem­ber to mumble these words to yours­elf: "What would an alpaca do.…"